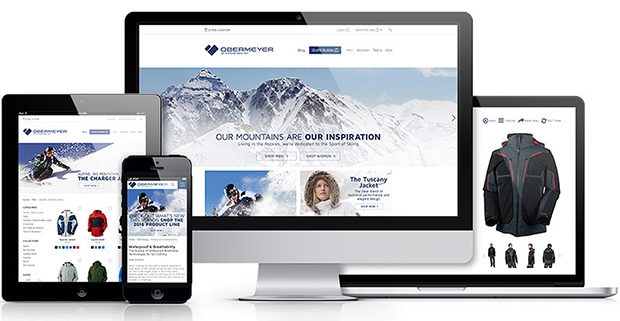 It's time to pack the skis (and snowboards, hats, boots, etc.) because we're heading to the 2017 Outdoor Retailer Winter Show in Salt Lake City!
This will be our second Show but our first winter one. I'm not sure we'll enjoy a Skratch Labs tofu bowl outside this year, but I'm sure there will be plenty of other delicious food.
But why are we, a web development company, going to OR again?
Well, as I said the first time, "we don't design new waterproof fabrics or solar charging accessories, but we do build websites."
And not just any websites. We use design and development as a way to solve ecommerce problems and improve content management strategies. And we do this by using a well-defined approach. For example, we might develop a single system that helps manage both B2B and B2C sales. Or, we might design a user checkout process that encourages customers to buy more items (always a good thing, right?).
Some of the ecommerce projects we're currently working on are with the Professional Disc Golf Association, Obermeyer, and Sticker Giant. But there is a lot more that we can — and want — to learn about working with retailers and the outdoor industry as a whole.
Presentation on Ecommerce Website Project
Two members of our team are presenting about an enterprise ecommerce project that we developed using Drupal 8 and Drupal Commerce with Obermeyer. Here are the details:
What: One Site to Rule Them All - Building the Right Website for B2B and B2C Customers
When: Wednesday, Jan. 11 at 1:30pm
Where: Salt Lake Marriott Downtown At City Creek
We'll have some cool giveaways so hopefully you or someone from your team can make it!
Also, we'd love to meet with you outside of the presentation! If you want to talk content management, website integrations, ecommerce options, or anything else, we're down! Just sign up here below. 
Get Organized and Set Up a Meeting
Our team will be available in SLC Jan. 10-12. If there is someone specific you want to chat with or have a particular topic in mind, please let us know when you schedule. Thanks!
We'll have five members of our team there with varying areas of expertise:
Mark Dodgson, UX Strategist
Mark is incredible at making sure user experience and the customer journey align. He will help you identify the best strategy. 
Ashleigh Thevenet, COO
Ashleigh is an expert project manager and really good at budgeting, resource planning, and general project planning. 
Michael Tucker, President
Michael is a visionary. He likes to talk about the big picture. If you want to generate out-of-the-box ideas, he's your guy! 
Daniel Paul, VP of Sales Development
Daniel has a ton of experience with marketing, business development, and digital technology (with companies like Apple and Disney!)

Lauren Seaton, Marketing Strategist
Lauren is a content and marketing guru — think story telling and strategy. She loves beer, too. 
We'd love to partner with you on your next project!
Since we're big on relationships, we're all about finding the right fit. Will you take the next step with us to see if we're a match?