We're excited to share some fantastic news to close out the year! Last week, Clutch released their 2018 global awards. This year and in the past, we've been featured by the B2B ratings & reviews platform as a top company, including as a Top Web Developer, Top U.S. Web Designer, Top U.S. Drupal Developer, and Top U.S. PHP Developer.
However, 2018 also marks the inaugural roll-out of the Clutch 1000 — a list of the top performing B2B service providers listed on the platform. These companies have proven their ability to deliver high quality products and results to their clients time after time.
We're ecstatic to not only be on the list, but to be ranked in the top 200 (we're number 189, to be exact!). 
Being a 'Clutch Global Leader' is more than just a title. "The accolade is reserved for companies that show a superior commitment to their clients," according to Clutch.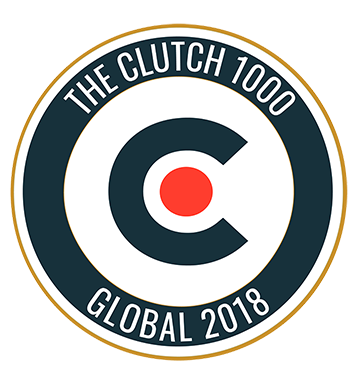 "It's really gratifying and humbling to receive this recognition, particularly since the evaluation is based upon our client's satisfaction and happiness with our work," Michael Tucker, Bluespark's president and founder said. "We were human-centric before such concepts became commonplace, and we founded this company on the idea that clients, their customers, and Bluesparkers deserved a better experience than what was common."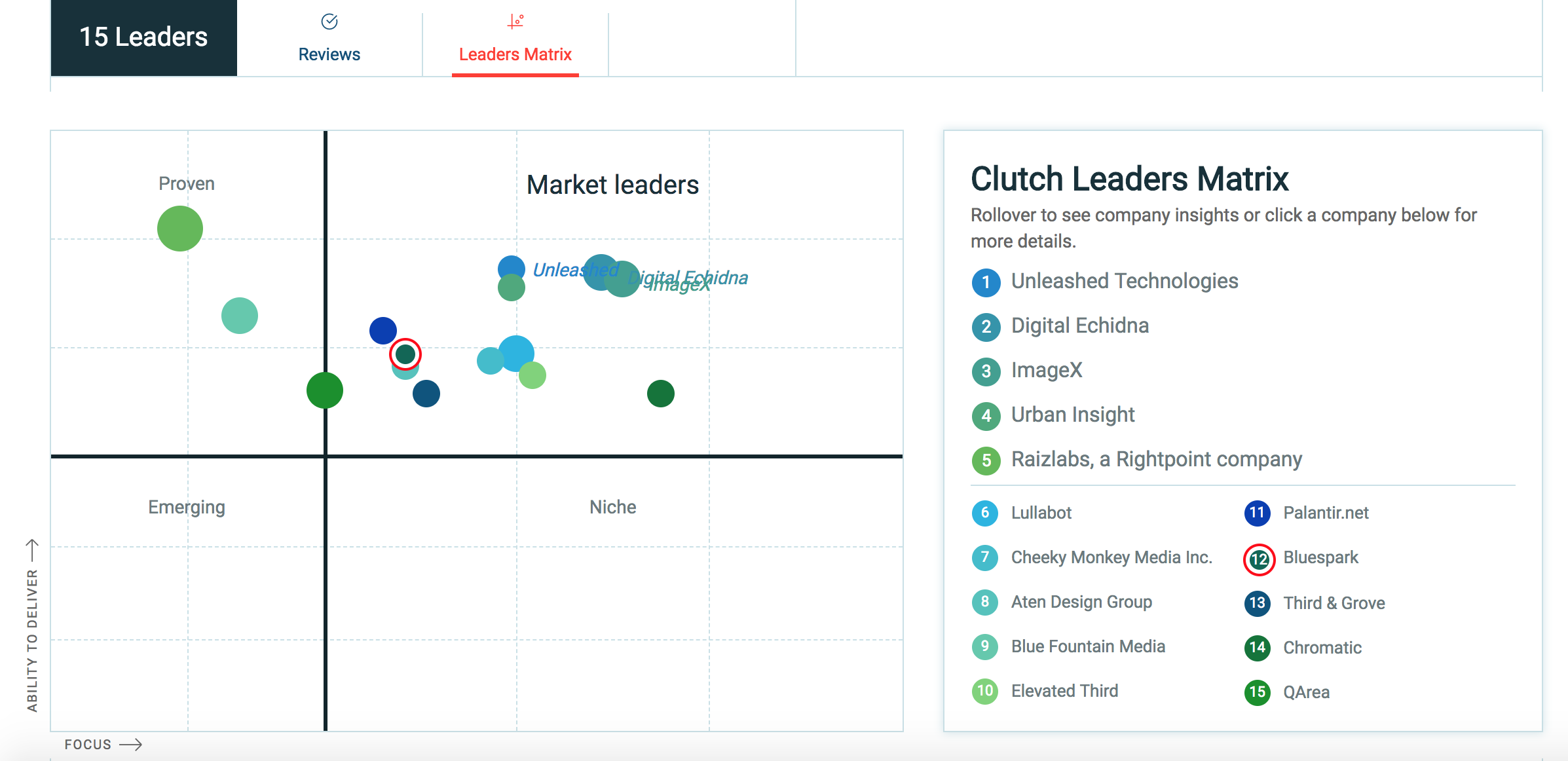 As a global technology-focused digital agency, we work with a variety of clients from online retail (ecommerce), higher education, and non-profits. We frequently provide solutions that include establishing complex technical integrations, simplifying asset management, and defining unique and valuable customer journeys. 
Our positive working relationships have lead us to become a Clutch Global Leader, and for that, we are indebted to our clients. Thank you for the continued opportunity to partner and serve. 
Here are some of the things our clients say about us:
"We're constantly impressed with how well their project manager keeps up with everything and prioritizes tasks. We often feel like we're their sole client."

"We are very pleased with the functionality and traffic we're receiving, which has grown consistently. The website looks much nicer, and the backend functionality is first-class. It allows us to do so much more due to its flexibility. It's astonishing what we've gotten out of that system ... They always treated us like we were their most important customer…our core people and project manager were always consistent. I really appreciated their commitment to our success."
"Bluespark is an exceedingly professional service provider. They worked with us to plan and meet milestones. Instead of rigidly providing established templates, they develop customized solutions to serve our organization better. A service-oriented approach sets them apart from similar firms."
"Bluespark had a good handle on choosing the right designs for our vision. We had a collaborative process that implied more than simply choosing between two designs imposed by them. Bluespark determined the direction in which we wanted to go, asking us questions and challenging us in terms of how far we could take the design."
Additional Awards
Our previous Clutch awards include Top Ecommerce Developers, Top Web Developers, and Top Drupal Developers. This year we were also ranked, as follows: 
Top 15 Drupal Development Firms (in the U.S.)
Top 15 PHP Development Firms (in the U.S.) 
Top 5 Web Developers in Raleigh, N.C.  
Top 5 User Experience (UX) Agencies in Raleigh, N.C. 
Do you want to learn more about our work? You can start by checking out our in-depth case study-style reviews on our Clutch profile.
We also recommend diving into the featured case studies on our site, including our white paper about how to start outlining your own digital project.
Finally, you can also find us on The Manifest, Clutch's content-driven sister-site dedicated to making the B2B buyers' journey easier. You will find our third party-verified portfolio there.
About Clutch
A B2B research, ratings, and reviews firm in the heart of Washington, DC, Clutch connects small and medium businesses with the best-fit agencies, software, or consultants they need to tackle business challenges together and with confidence. Clutch's methodology compares business service providers and software in a specific market based on verified client reviews, services offered, work quality, and market presence.