Since 2009 (Bluespark's founding) we've been using Drupal and attending DrupalCons. This year, about half of the Bluespark team will be at DrupalCon Nashville. And we're proud to support the event — and community — as silver sponsors.
Visit Us at Booth #908 
Come by to chill, chat, and recharge. We've got a team of developers, designers, and project managers ready to talk about Drupal + commerce, user experience, content, and so much more. The more also includes some one-of-a-kind collectible posters. Here's a sneak peak.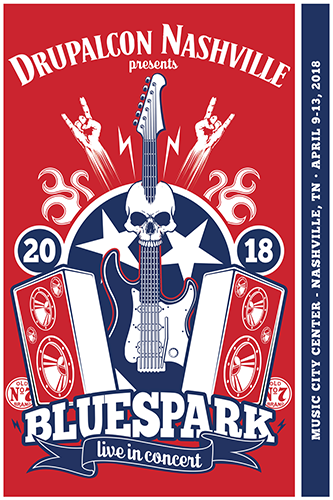 Bluespark Sessions
We have one BoF and one presentation:
Library BoF

All things library. You know the drill. Come with your questions and ideas about the library + Drupal space, and we'll explore it together. Time: 5pm-6pm, Tuesday, April 10.

Don't Trust Your Gut: Agency Operations Metrics 

Ashleigh Thevenet, COO and project manager, shares some of her secrets about spreadsheets and how she uses them to manage and track Bluespark's real world stuff - like employee utilization, resource scheduling, and sales projections. Sign up here. Time: 10:45am-11:45am, Wednesday, April 11.
CXO Dinner
Ashleigh Thevenet, COO, is co-hosting this year's CXO Dinner on Wednesday night with Johanna Bergmann, CEO of Amazee Labs and Michael Cannon, CRO of Axerlerant. See more here
More About DrupalCon Nashville
Information about sessions, events, attendance, and the city is available here.