A Company Built on Innovation
Klaus Obermeyer created Obermeyer in 1947 and had one goal in mind — to help his ski school students stay warm and dry. His love for both skiing and engineering lead to creating the first down parka, alpine ski brake, mirrored sunglasses, among many other inventions. We've partnered with Obermeyer since 2015 to continue their legacy of excellence and innovation. 
Let us tell you the story of how we got there
Results
By upgrading their digital ecosystem to better support customer journeys, we helped Oberemeyer: 
Take entire B2B ordering process online and reduce multi-step B2B ordering process
Integrate B2B ordering platform with ERP & PLM systems which improved B2B order tracking and delivery (and merchandising control)
Develop personal online account creation and enabled online multiple store and location delivery, which increases dealer self-sufficiency and efficiency
Challenges
The Obermeyer commerce system is unique. Since its inception, the company has prioritized its relationships with dealers and buyers. Because of this, Obermeyer does not sell directly to consumers. To support the B2B users, we had to consider the needs of all audiences, though. 
For example, B2C users complete final purchases on one of Obermeyer's 3rd party dealer websites; B2B users buy product directly from Obermeyer with purchase orders (no cash transactions); and VIP users are provided discounts on items that can be purchased directly from Obermeyer in exchange for completing a brief online training.
Let us tell you the story of how we helped Obermeyer and their customers. 
Moving three disparate sites into one seamless interaction required continuous planning and communication between strategists, designers, developers, project managers, and client stakeholders. Here are just some of the details we addressed.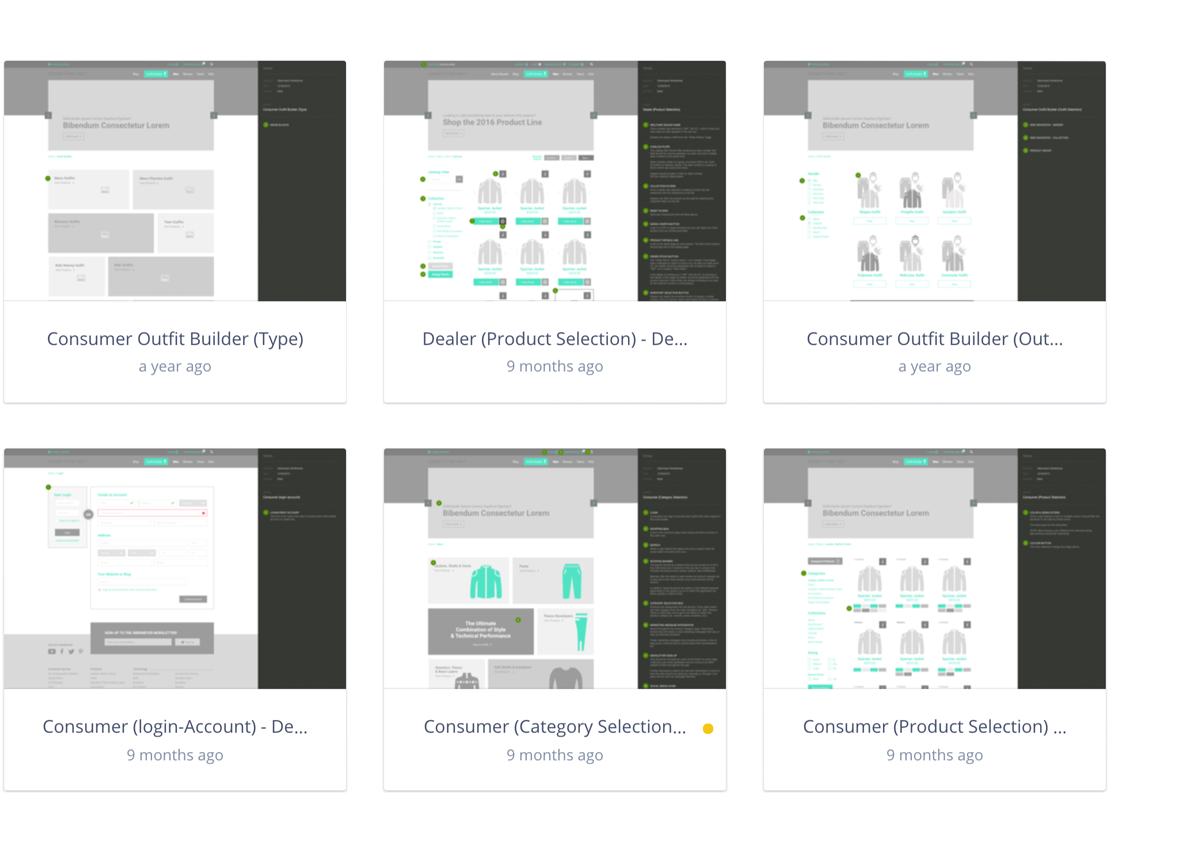 Strategic Approach
We collaborated with the Obermeyer team using a creative approach in order to identify issues and find resolutions through design. By starting with sketches and wireframes, we could:
Get client feedback quickly
Iterate continously
Solve issues rapidly
Interaction Requirements
We created detailed interaction documents that described the behavior of design elements. This ensured that the designs were smoothly handed off to the development team for implementation.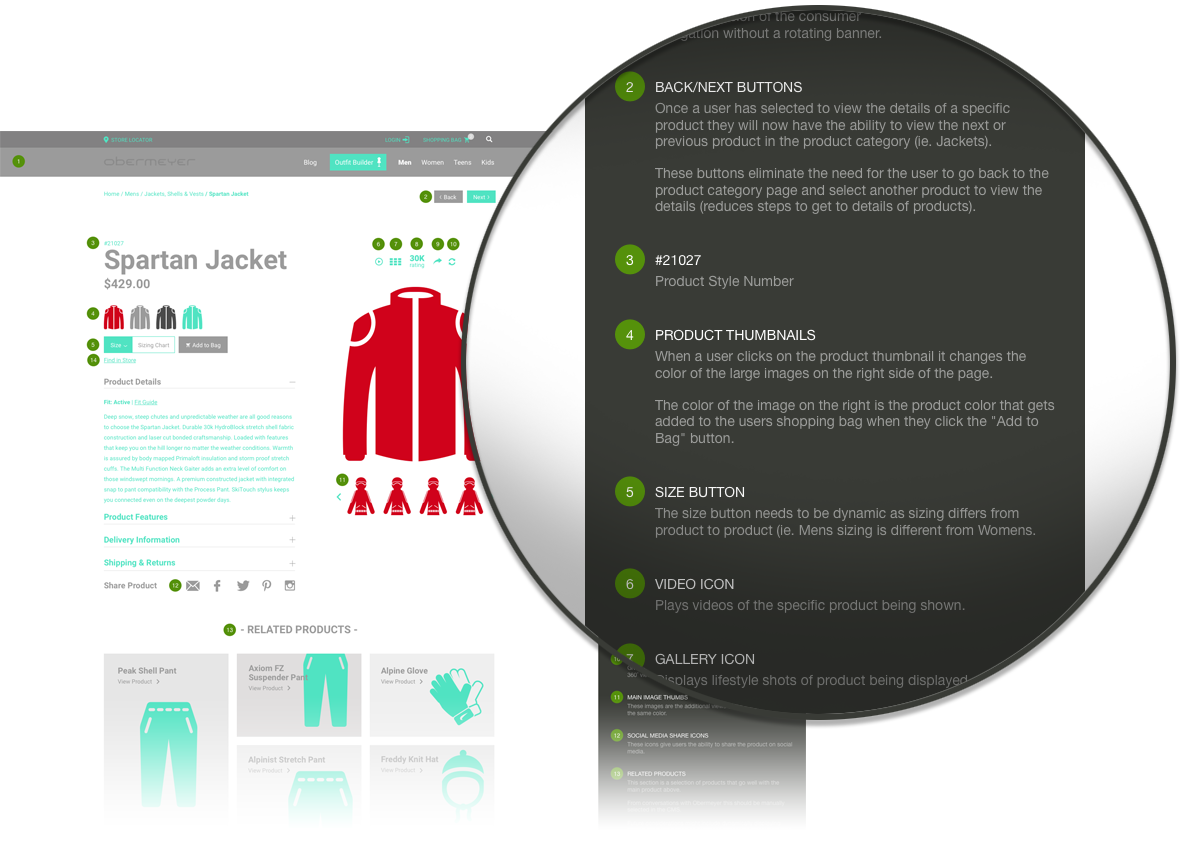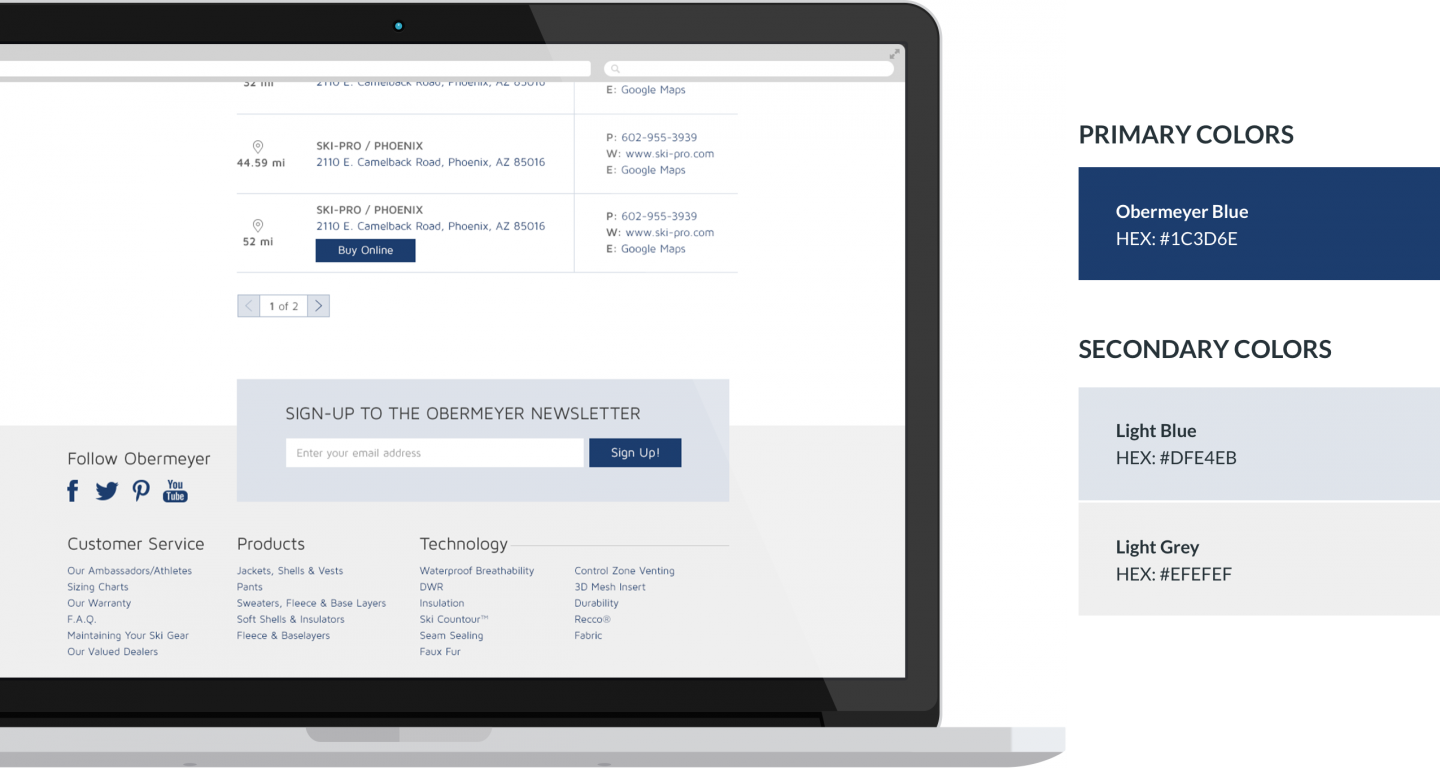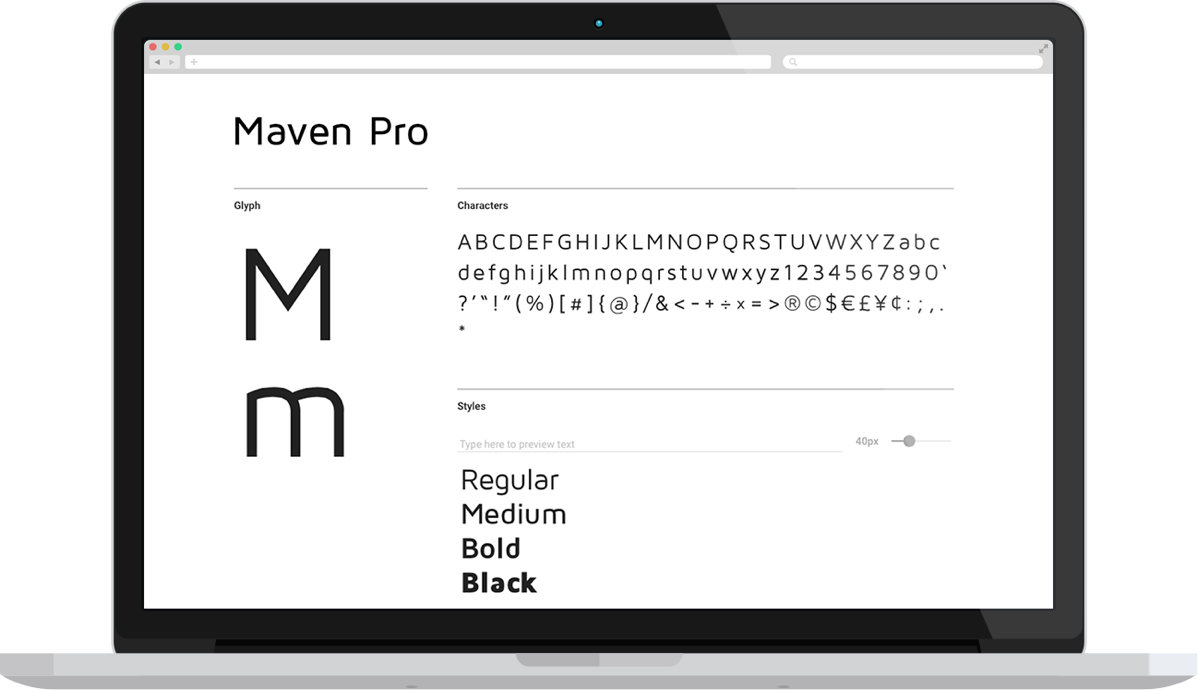 Typography
We set out to ensure the font choices selected would work well for both online and offline media. After dozens of tests, we selected Maven Pro because of its readability, ideal kerning, unique curvature, and flowing rhythm.
Iconography
Conveying a lot of information with a simple visual enhances our understanding and allows humans to process content more quickly. The Obermeyer Iconography set uses outlines in an effort to limit distractions and provide visual hierarchy.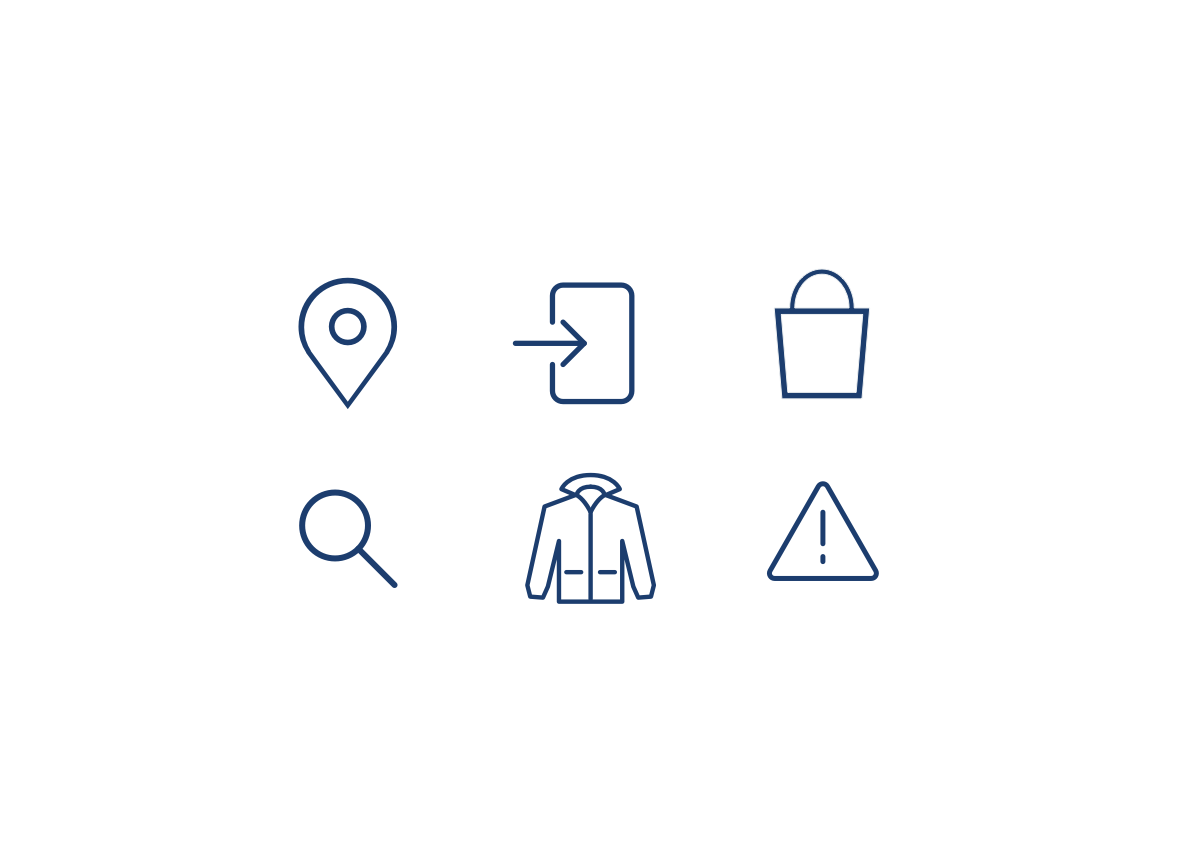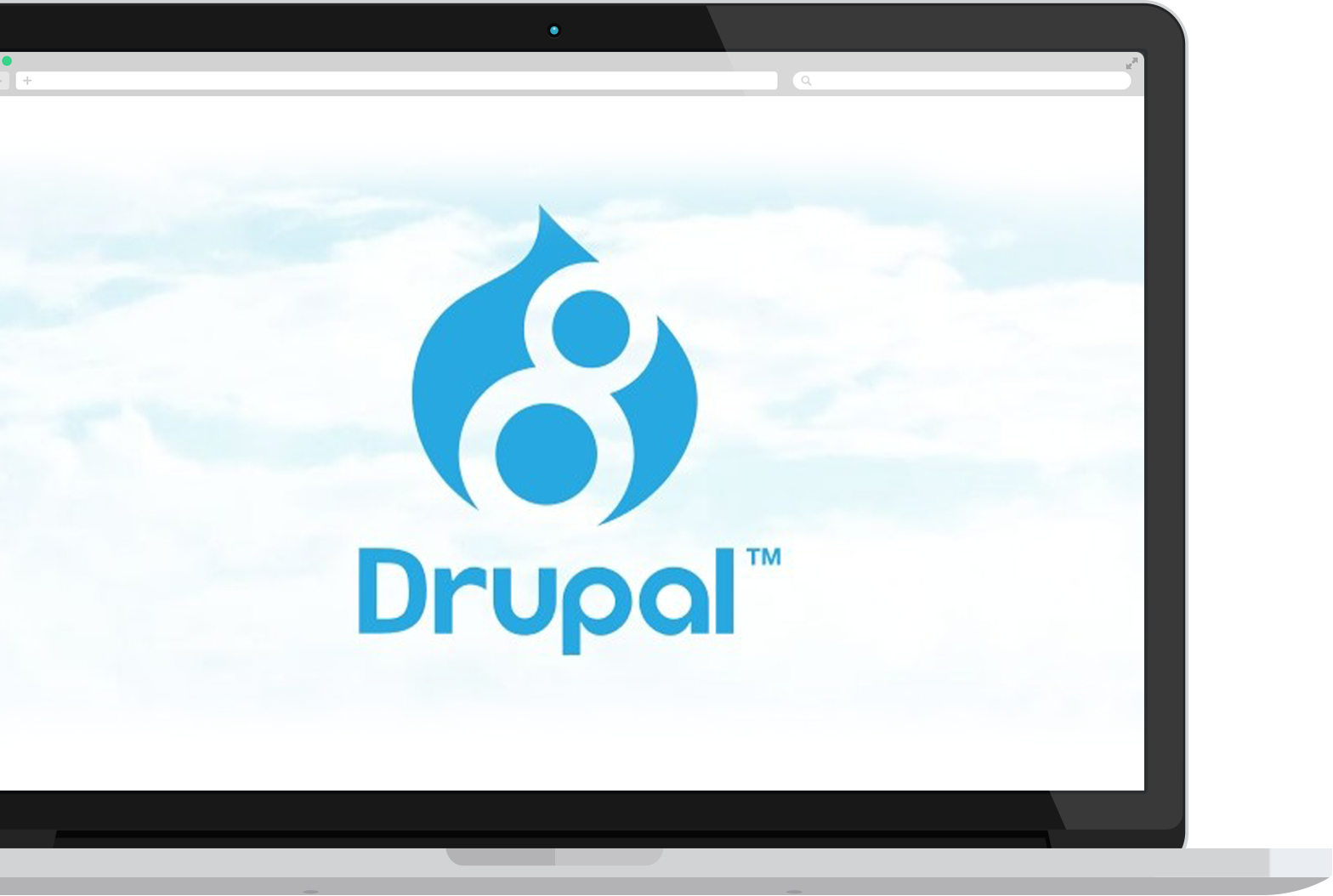 Drupal 6 to Drupal 8
We merged three separate websites from Drupal 6 into a single site on Drupal 8. We leveraged Drupal's flexibility to craft custom experiences for each audience on top of a single commerce platform.
B2C
Seamless shopping cart integration with 3rd party dealer sites
Recommended products based on browsing history
Renovated UI and UX
B2B
B2B Customized access and profile setup
Online bulk purchasing
Multiple store and location purchasing
VIP
Sales associate training before discounts on products
1 time discounts for friends, family, and industry professionals
Payment gateway integration for online payments
Custom Integrations
NGC Software is a leading provider of cloud solutions for the fashion and retail industries. Obermeyer uses an NCG suite for enterprise resource planning (ERP), product lifecycle management (PLM), and supply chain management. We integrated Obermeyer's Drupal 8 website with its ERP software to create a comprehensive ecosystem with seamless interactions.
A Continuous Journey
By consolidating and integrating formerly disconnected applications on top of a solid, endlessly flexible platform, Obermeyer is well-positioned to continue its tradition of innovation and service.