Client Introduction
StickerGiant is a custom label and sticker producer located in Longmont, Colorado. As a Forbes top 25 small business, the 39-person organization is 100% online, so their website is critical to their success and growth. Staying true to their culture is critical, too. In 2015, StickerGiant printed more than 800 miles of material and the company owns the world's largest sticker ball (named Saul) and the Guinness Book of World Records recognition to go with it. And every single day, StickerGiant makes customer service a priority. 
Since 2015, we've helped StickerGiant make significant improvements to their ecommerce journey. Their website is the main sales and conversion tool, but when we started our partnership, it was also unreliable, inconsistent, and outdated. These were some of the critical concerns: 
Customers were unable to create personal accounts online to access orders, track order history, or update shipping information
Employees had to manage most of the order flow through email because the company's customer account system, FileMaker, only partially integrated with its website
The website was not mobile responsive  
The goal was to streamline the interactions to prioritize the customer experience, with an emphasis on customer service. 
The StickerGiant team is all about their customers and all about their metrics. When we started initial designs, we knew each new design had to produce the same or improved website results to be "accepted" or implemented as part of the design update. Simply put, there was no option to go backward. Only forward.
User Testing
Over six months, more than 500 users performed 100+ StickerGiant tasks. The desired outcomes were set using parameters, like a hot spot around a button we wanted clicked.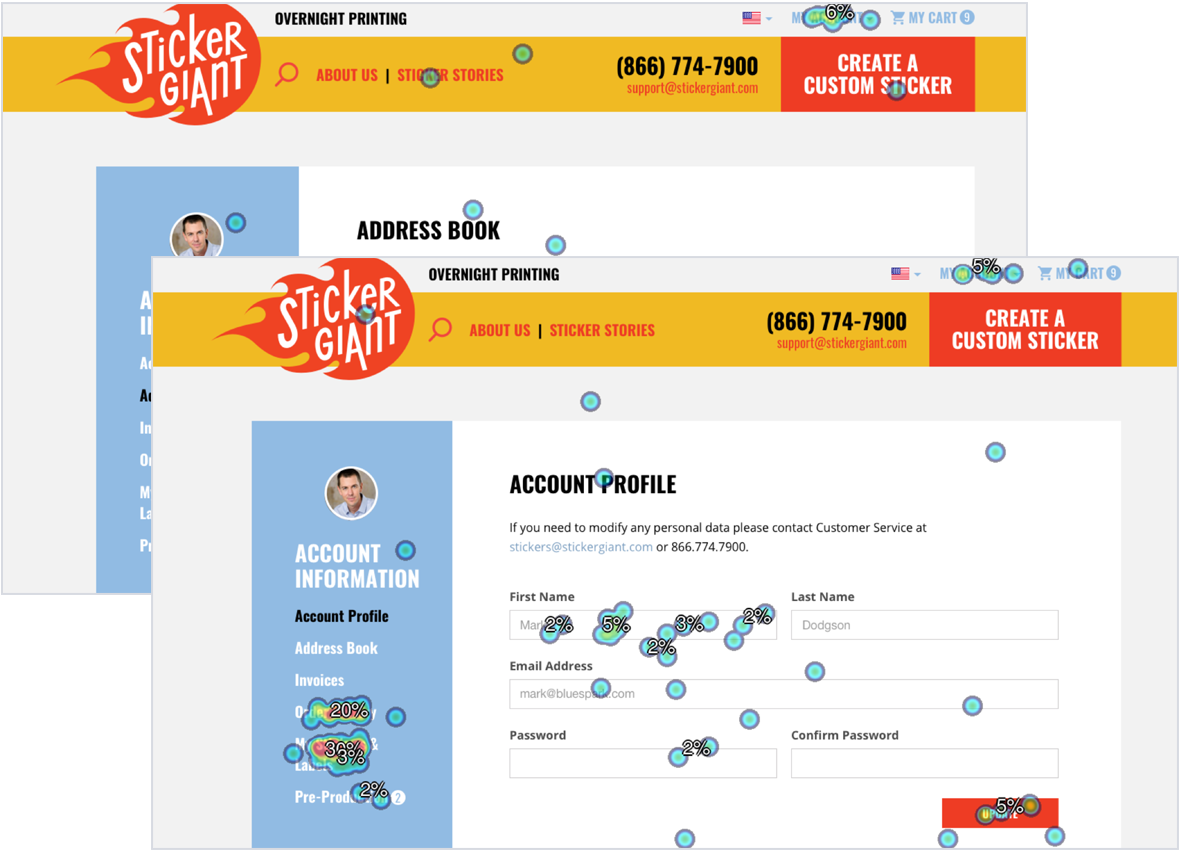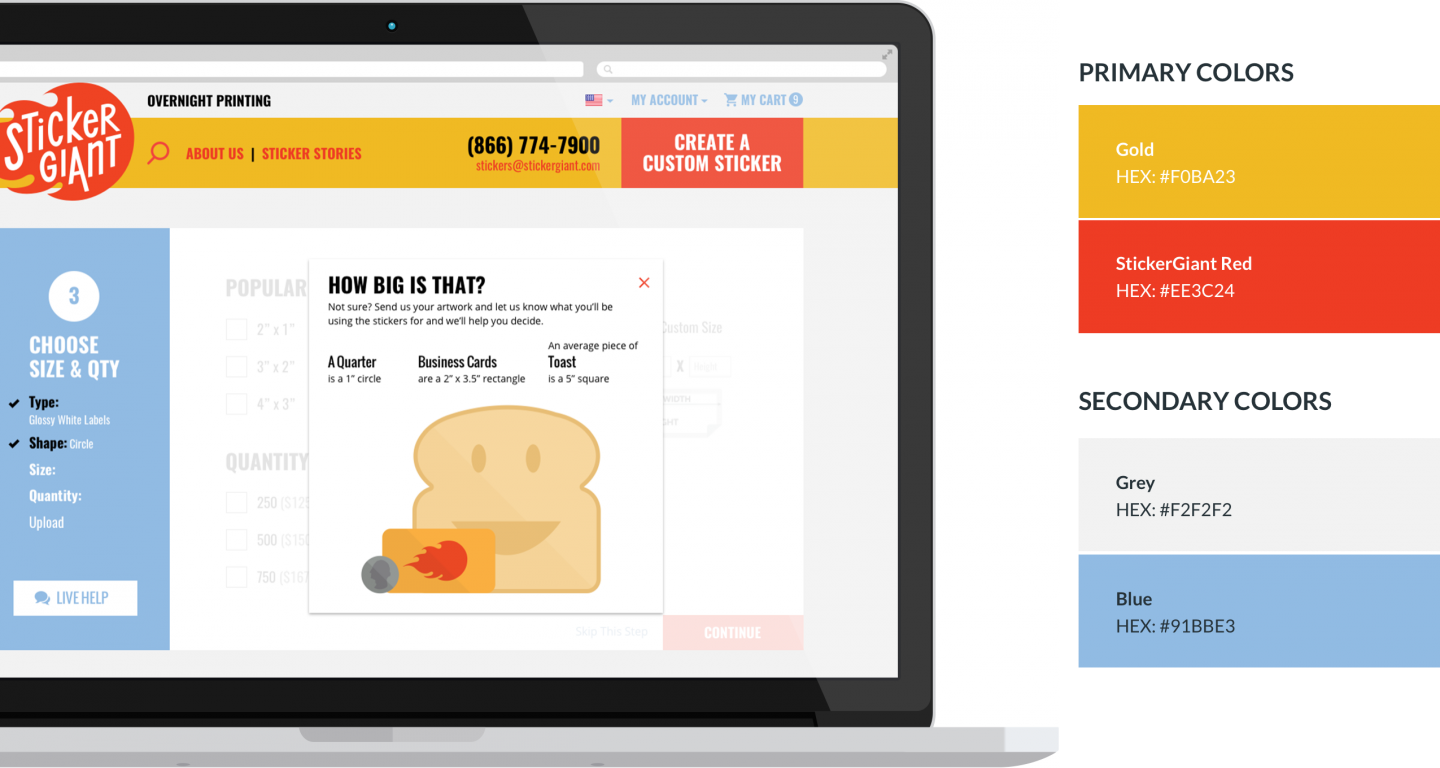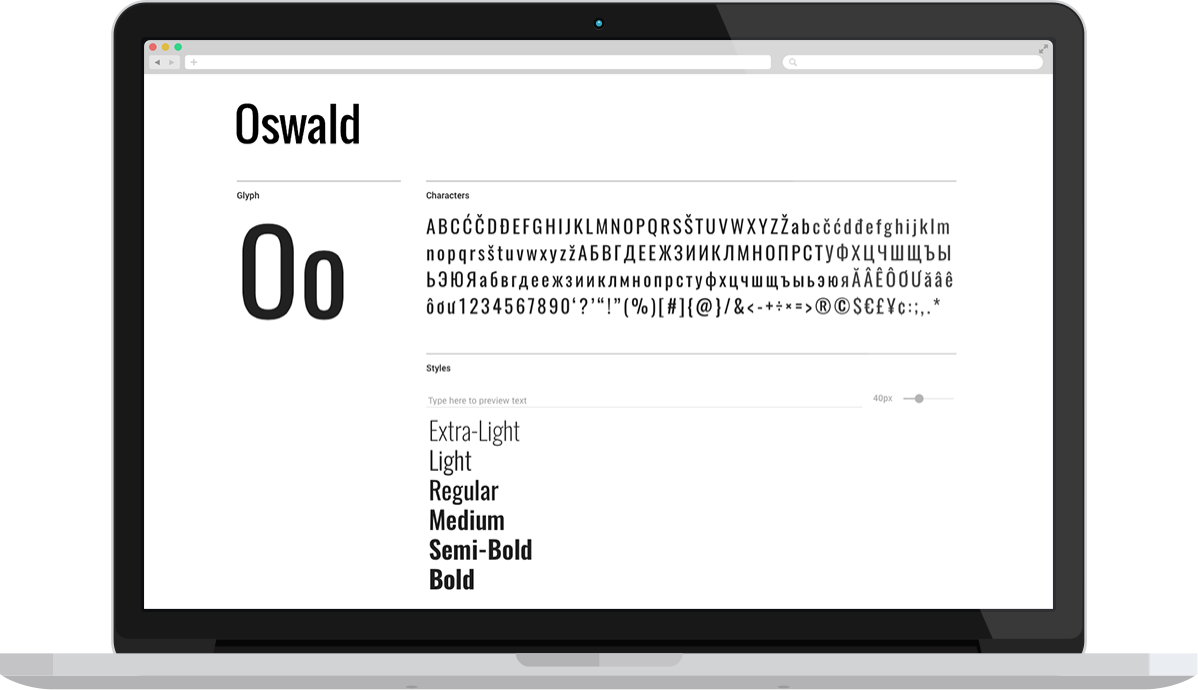 Typography
We updated the type to the san serif Oswald font family to compliment the sharper edges of the new site design. 
Iconography
We designed the site's icons using Google's material design grid as a foundation.
Icons now appear flatter and without shadow, which simplifies and modernizes the experience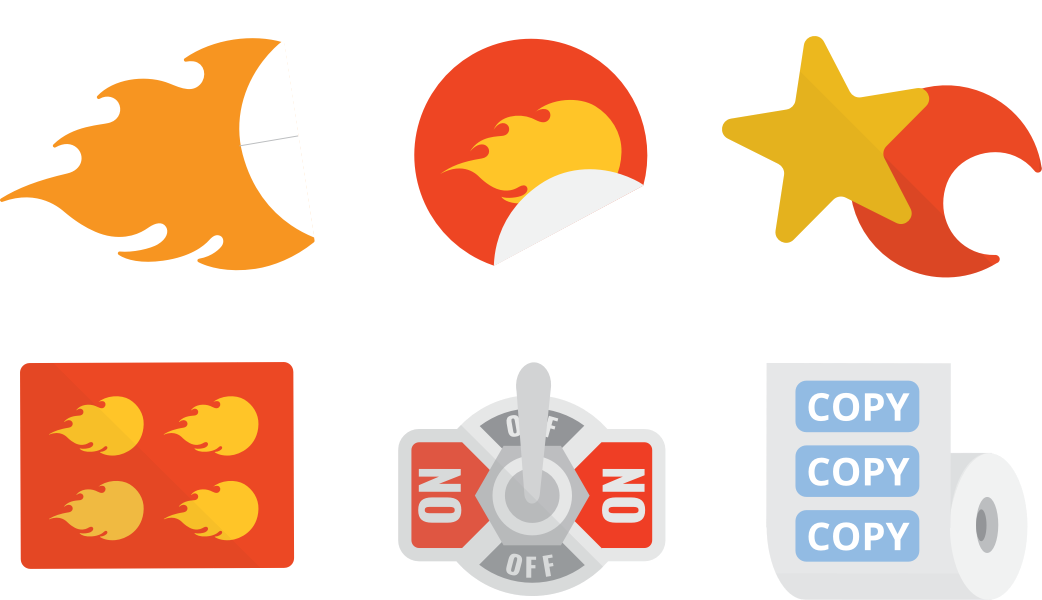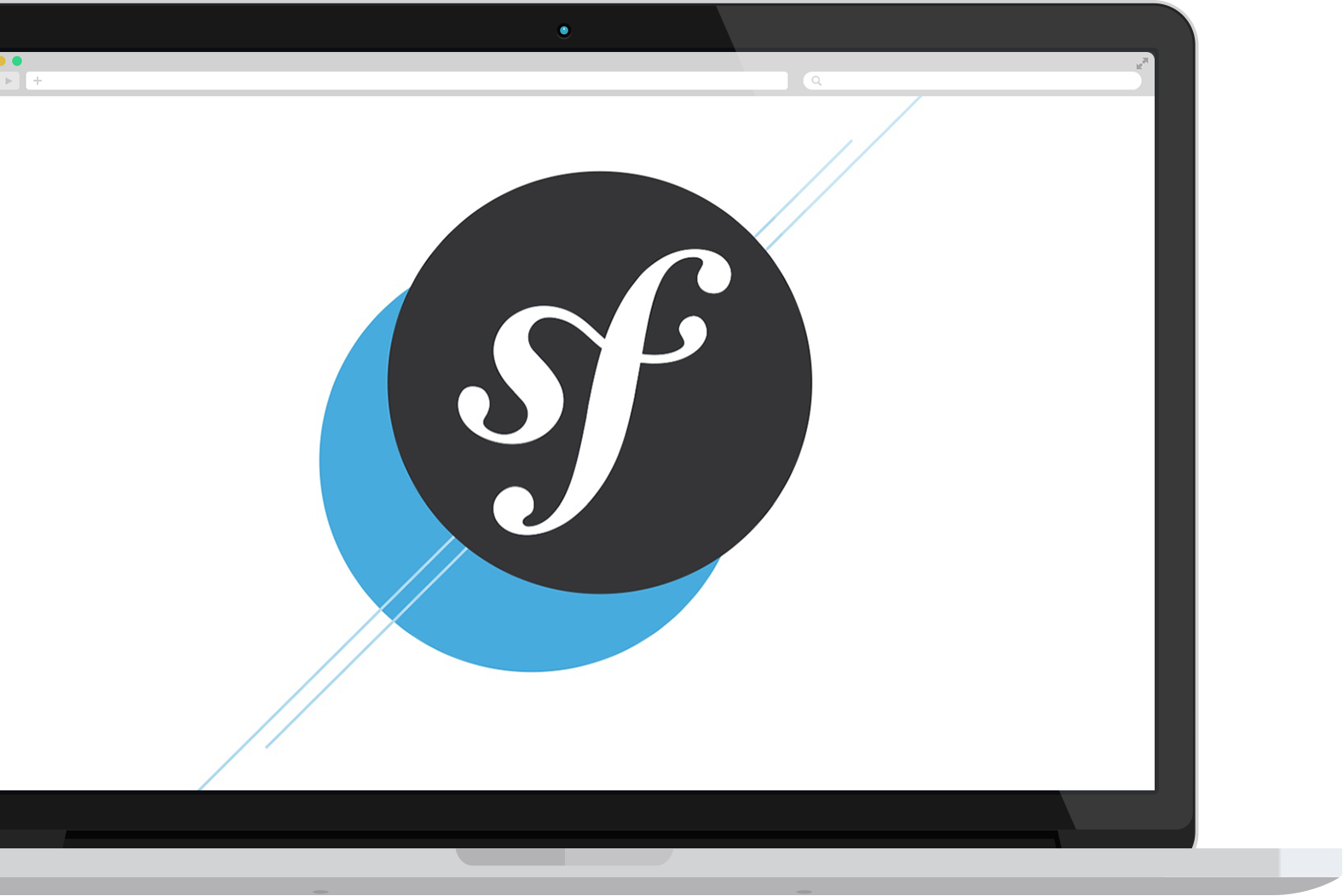 Symfony
As a set of reusable PHP components, Symfony provided a solid framework on which to develop StickerGiant's site.
Custom Enterprise Order Flow
StickerGiant uses a separate internal CRM system that needs to communicate with the company's website in real-time so that orders and accounts stay up-to-date.
Previously, StickerGiant employees interrupted the order process to communicate with customers, send a quote, or upload a proof via email. Now, all the steps that were previously handled offline are maintained through the user's website account, which in turn synchronises with the CRM system.
This set-up is easier for customers, who can create personal accounts on the StickerGiant website to manage their current orders, review past orders, check order status, and communicate easily with StickerGiant representatives.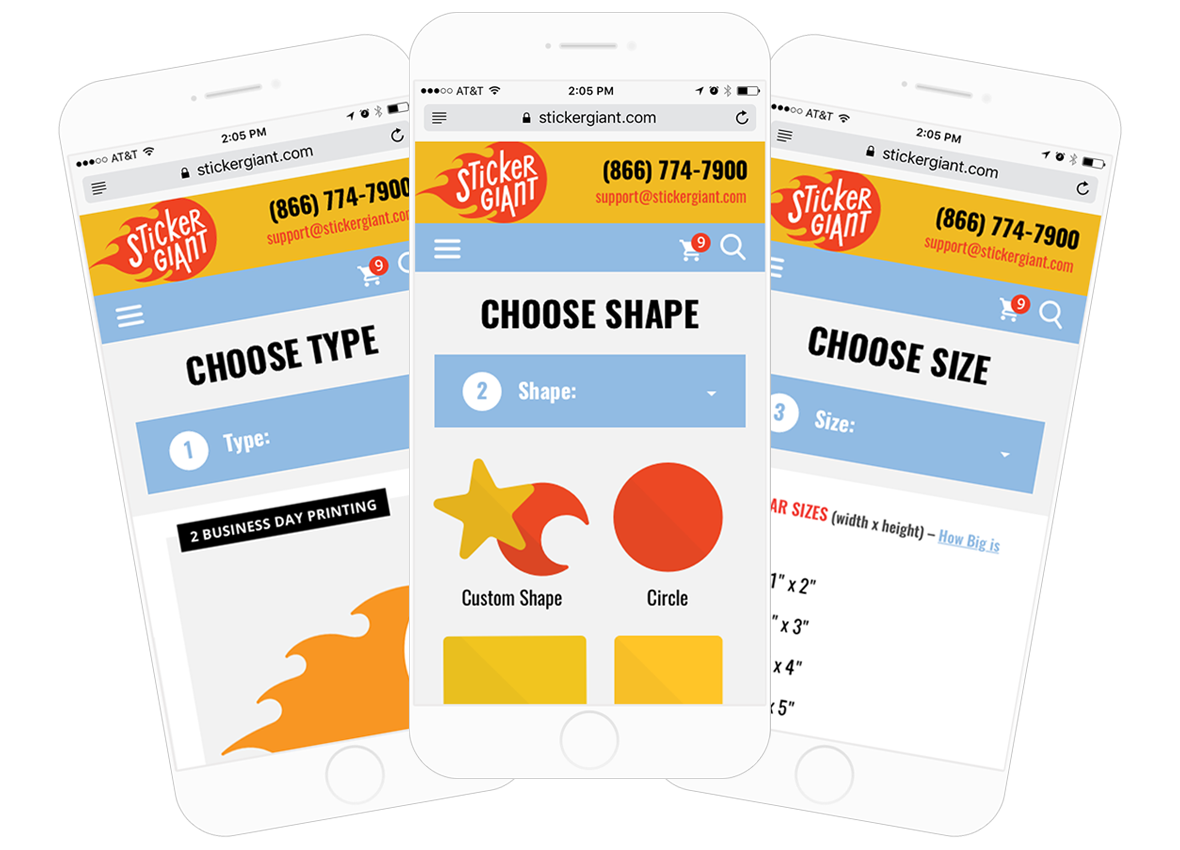 Mobile Responsiveness
Bluespark updated the website and blog to be mobile responsive and ensure a consistent user experience on all devices. The initial results were astonishing.
392% increase in mobile transactions
350% increase in mobile revenue
180% increase in mobile conversions
Performance
To ensure quality search engine ranking, Bluespark increased page speeds and load times. By implementing additional Google Analytics integrations, including ecommerce, Bluespark improved the overall performance, which resulted in a better user experience.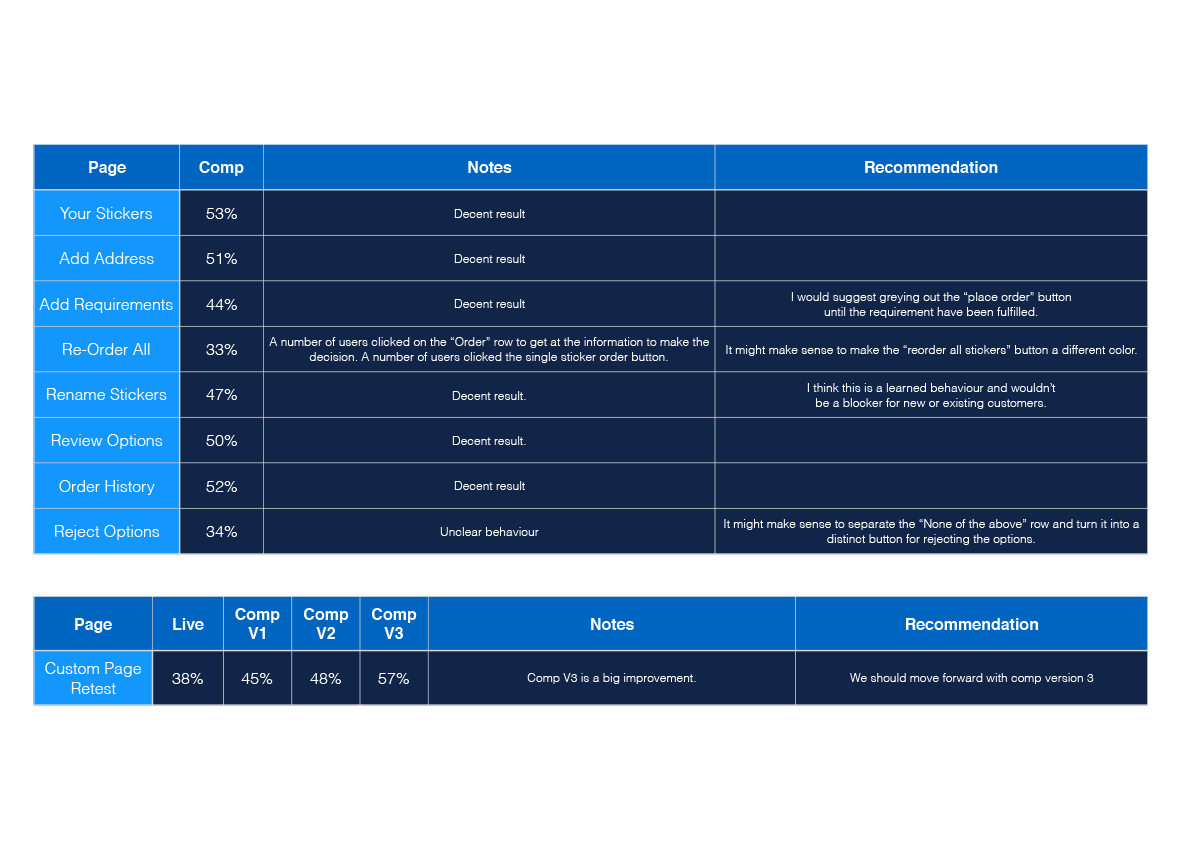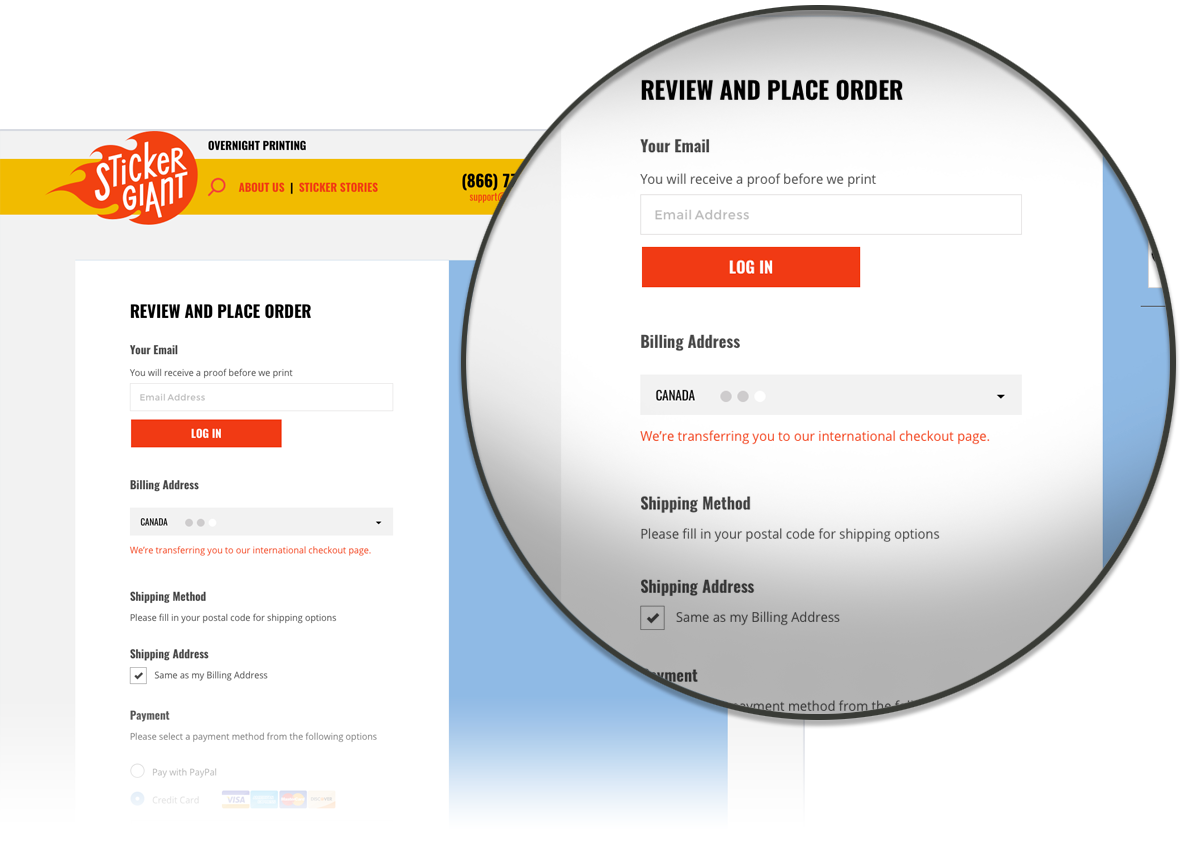 International Ordering
Bluespark implemented an international checkout system. Previously, StickerGiant only accepted orders from the U.S. and Canada. By connecting their website to a 3rd party provider, which calculates shipping, taxes, and customs costs, orders can come from anywhere in the world.
Continuous Growth
StickerGiant relies heavily on metrics while focusing entirely on its customers. We work consistently with the team to implement new testing and adjustments to ensure we're helping them meet their quarterly business goals.