We're excited to announce that StickerGiant launched its new website!
The look and feel is sleeker and the user experience is easier. But there's much more happening under the hood that got us to this new and exciting place. Let's take a look.
Guesswork, out. Assurance, in.
The StickerGiant team is all about metrics. And we love it. At their headquarters in Longmont, Colorado, they have an office where one wall is lined with monitors displaying website analytics in real time. Their focus on numbers and outcomes is unparalleled (in our experience) and it makes it easy to know where their priorities are: The Customers.
Analytics are everything to us at StickerGiant. We don't just say they are important, we practice it all the time. - Jesse Freitas, StickerGiant Marketing Director
When we started initial designs, we knew each new design had to produce the same or improved website results to be "accepted" or implemented as part of the design update. Simply put, there was no option to go backward. Only forward.
For example, if the page load was slower on a new design, we wouldn't implement it. If the click through rate was lower, we wouldn't implement it.
"Analytics are everything to us at StickerGiant. We don't just say they are important, we practice it all the time," Jesse Freitas, Marketing Director at StickerGiant, said. "We meet as an entire company weekly on Tuesday mornings to review our Company Scorecard that has fifteen key metrics related to our business and operations. We make decisions and adjustments based on what the numbers tell us week to week."
The customer -- and therefore the customer experience -- is the priority, so only changes that improved the customer experience were used. No exceptions.
With every new design, we had to know if the change improved the user experience. To track that we needed a baseline, which meant testing the original website, as well as the new designs.
Usability Testing: Click-through rates
Over six months, more than 500 users performed 100+ StickerGiant tasks. The Bluespark project team created these tests -- or scenarios -- around specific designs and desired outcomes. The users were recruited through a user testing service.  
The desired outcomes were set using parameters, like a hot spot around a button we wanted clicked. If that link -- or somewhere in the hotspot -- was clicked, then that scenario was calculated as a success.  
Here is one of the tasks we designed: "StickerGiant allows you to create a custom sticker online. You need to create a sticker for your company to give out at an upcoming conference. How would you start to create the sticker?"
Using a previous StickerGiant webpage, we received a 63% correct click-through rate. When we tested the new design, we received a 77% correct click-through rate. Therefore, we chose to implement the new design.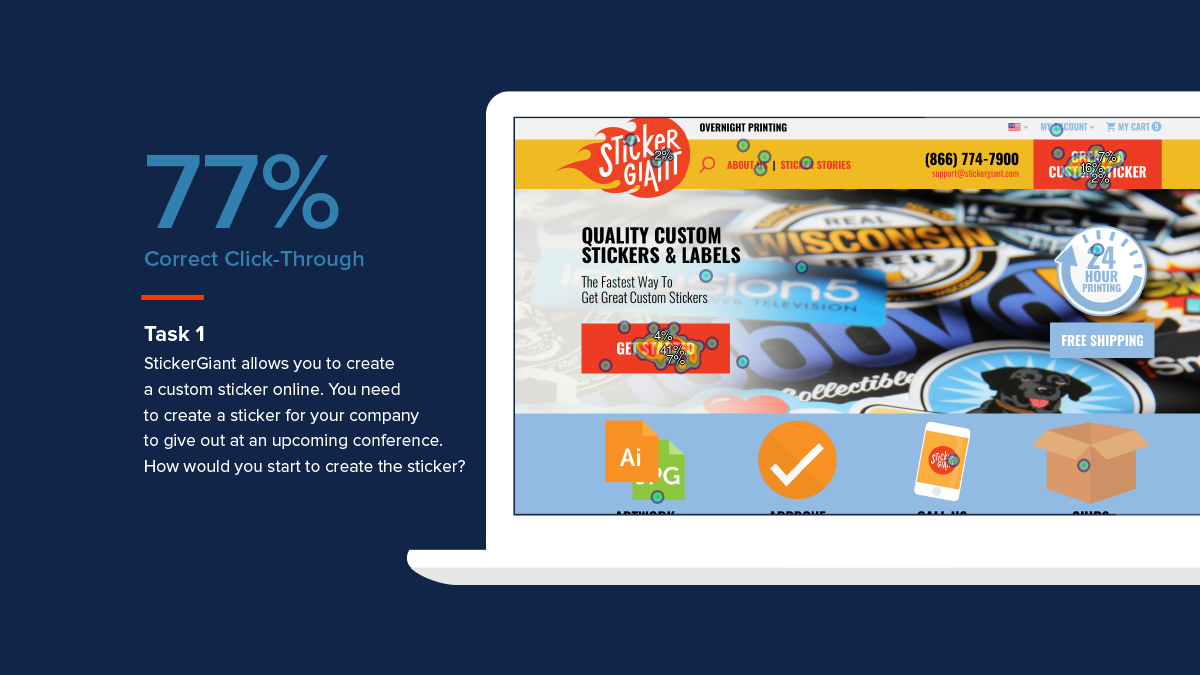 Ecommerce: Reduce distraction, focus on conversion
While customer experience, relevant content, and product quality are all critical to a commerce company, the success of an ecommerce business is tied directly to its website conversions on both desktop and mobile. Everything else can be great, but if customers don't convert, we have a problem.
In one testing situation, this meant reducing content and therefore, distractions.
On the previous version of the site the pages were very long and there were many links and buttons. We simplified the calls-to-action (CTAs) so that we could guide a user through the experience of purchasing a custom sticker without them getting distracted by all of the other things that were around it.
"If they get distracted and click on something, they've now been taken away from the one thing we want them to complete. By reducing that, we're giving them more focus on what we want them to do, which is order a new sticker, and actually check out with it," Mark said. 
By taking the longer pieces of content and putting them in an expandable footer, we shrunk the page significantly.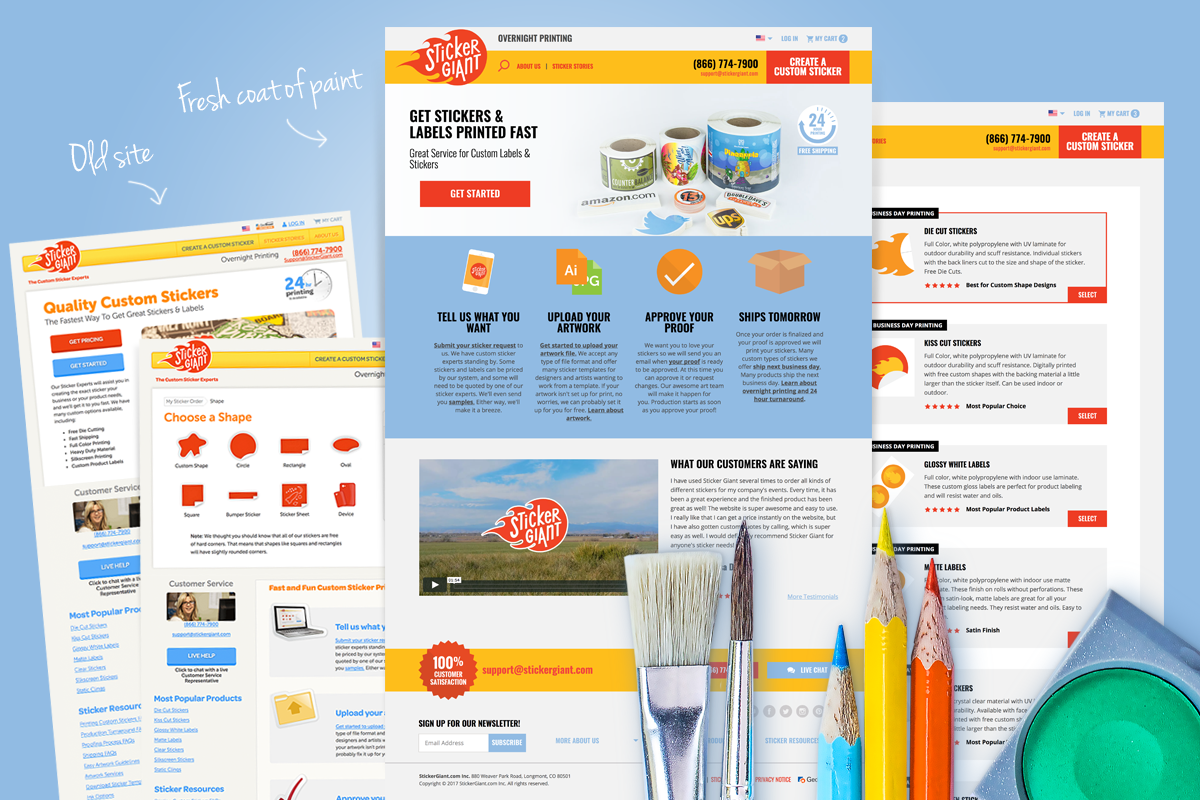 Now that the website is live, user interactions are live, too. So, both the Bluespark and StickerGiant teams are closely monitoring real-time data to ensure forward progress.
"We are watching to see if the CTR improves like the testing showed us and whether there is a big increase in conversions as a result of people getting through the cart online," Jesse said. "At the end of the day, we expect to see an increase in daily and weekly leads through the website, ultimately leading to more beautiful custom stickers and labels being run through the shop."
The Bluespark team will look for more engagement on landing pages, longer time views on the videos, increased click through rates (CTRs) on the actual "create a custom sticker" button, and more conversions on the actual stickers. 
Launched, but not left alone
Launching a new website feels like the final accomplishment. After all that hard work, it's easy to throw up your hands and say, "we did it!" But there is still plenty to do. A launch is successful if the website performs better than before and if the results match (or exceed) your goals. You can only realize success if you know what the goals are and if you keep measuring and testing, beyond the launch.
We will monitor anonymous user recordings and analytics alongside the StickerGiant team to ensure continued success. We will also begin Phase 4 work, which includes a series of changes related to the flow of the site. After gathering data for a couple of weeks, the first thing we will test is the order process to determine if design placement or customer steps improve the flow.
We'll continue updating our audiences on Phase 4 and the entire project. If you have any questions in the meantime, please contact Lauren Seaton(Bluespark) or Jesse Freitas (Sticker Giant).
***
About StickerGiant
StickerGiant was founded by John Fischer in 2000. It all started from a single bumper sticker idea stating "He's Not My President" in the aftermath of the 2000 Election. After several thousand sticker sales, StickerGiant was born with the goal of being "the Amazon of Stickers." The company grew quickly, selling all sorts of stickers in an online retail store.
Over the years, customers started asking StickerGiant to get their own custom stickers printed. In 2010, the company transitioned to be a manufacturer and printer of custom stickers with the goal of providing a premium quality product, fast turnaround and excellent customer service. Over the years StickerGiant's product offerings have grown, and they've navigated their way into the business of printing custom labels for products.
StickerGiant is located in Longmont, Colorado.