Remember Long Way Round and Long Way Down with Ewan McGregor and his wingman Charley Boorman? Well, we bring to you the next motorcycle adventure for the ages.
Sort of.
On July 17, Michael Tucker, Bluespark's president and founder, is joining two of our friends and partners from Obermeyer, the ski and outwear company based in Aspen, Colorado. The following day, they will begin a motorcycle road trip from Aspen that loops south through Colorado into New Mexico and Texas and back north to Colorado.
This idea was hatched at dinner with the Obermeyer team in Denver, during Outdoor Retailer's 2018 Winter Market. As I recall, Brett Anderson, Obermeyer's financial controller, and Greg Bannister, Obermeyer's COO, already had the adventure in the works (so, technically all the credit should go to them). 
By the end of the evening, the biking duo had become a biking trio, though, and Michael was suggesting a mandatory stop at the Big Texan Steak Ranch in Amarillo, Texas to try their luck at the impossible -- consume a 72o.z. steak, shrimp cocktail, baked potato, and a roll all in one hour to earn a free meal.
(We'll definitely keep you posted on the steak competition.)
But the trip isn't really about destinations. It's about adventure, camaraderie, reclaiming time and space, and taking the longer way to somewhere. 
"There's a lot of fun in riding, and taking the hilliest curviest roads," Michael says.
And it's not everyday vendors and clients join forces for something less about work and more about fun.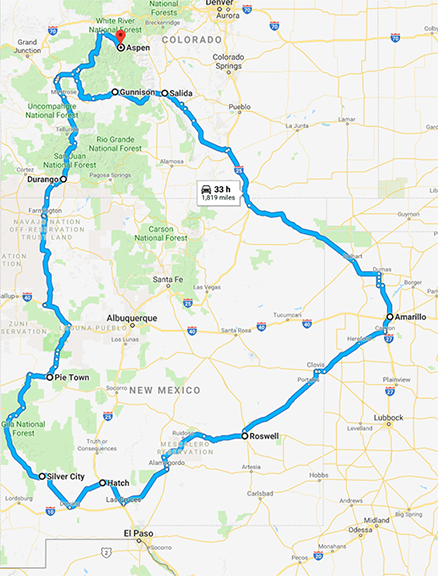 Michael shipped his bike to Aspen and will meet it there in a week. We'll document the trip here on the Bluespark blog and on our Instagram feed (#longwaytobbq). Follow along -- because no one knows what will happen!